Horizontal splitting machine SPLIT-HE 500
Splits sheets and block material with volume weights up to 400 kg/m³ depending on the material and cutting thickness with maximum precision (splitting PE with volume weights up to 100 kg/m³) and high-density materials with hardnesses above 40 shore A.
The perfect splitting machine for the packaging and automotive industries, as well as other technical applications.
Innovative knife guide system for maximum cutting quality and accuracy: Includes knife bar with a new geometrical shape, which combines the properties of greater stability but also reduced friction with an exact cutting guide and high knife tension
Excellent cutting tolerances thanks to very stable press roller suspension, thus providing greater guide rigidity as well as a significantly more stable, large diameter press roller
Stable material support table with optimized table width
The new vacuum system provides convincing cutting results thanks to 40% more power compared to its predecessor (BSR-1)
Optimized, automatic knife readjustment reduces knife strain by maintaining the position of the knife tip to the pressure roller
Two knife drives for more cutting power
Less waste by reducing the remaining sheet thickness to 2 mm
Short set-up times for fast and efficient production
Efficient grinding in a very stable, powerful grinding unit with grinding disks with a diameter of 150 mm
Quality assurance through automatic grinding monitored by camera
Easy to operate using intuitive touch control system
Key Facts
Application
The perfect splitting machine for the packaging and automotive industries, as well as other technical applications.
Material
Split a wide variety of materials such as PU and PU rebond, polyethylene (PE, XPE), cellular rubber, Basotect®, Baynat®, rubber and rubber rebond, cork, foam rubber, neoprene and comparable materials, reticulated foams, EVA and latex.
Cutting Tool
Endless band knife with a width of 80 mm and a thickness of 1 mm in a knife bar with exchangable upper and lower guide binding
Technical Data
Standard

Options
Block Width

1 400 mm
1 800 mm, 2 200 mm
Block Height

1 000 mm bei table height 650 mm, 800 mm bei table height 840 mm
1 300 mm bei table height 650 mm, 1 100 mm bei table height 840 mm
Block Length

2 200 mm
2 800 mm, 3 300 mm, 4 400 mm, 5 500 mm, 6 600 mm
Standard
Manual cutting angle adjustment using handwheel
Manual press roller adjustment
Non-driven press roller
Grinding unit
Grinding dust extractor unit
Motor-driven retainer adjustment
Antistatic brush on knife bar
Work table without vacuum unit
B-Con
Options
Motor-driven cutting angle adjustment
Motor-driven press roller adjustment
Driven press roller
Reinforced press roller
Ionization unit on knife bar
Frequency-controlled grinding unit
Automatic grinding
Reinforced grinding dust extractor unit
Reinforced vacuum unit
Frequency-controlled vacuum unit
Reinforced table drive
Cooling unit
About us
The Albrecht Bäumer GmbH & Co. KG has been a leading manufacturer of machines and equipment for the foam industry for 70 years. The company focus is on special machinery and equipment. In this area, we have grown as a medium-sized company from pioneer to world leader.
Our locations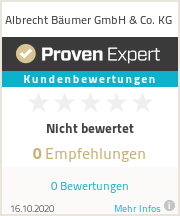 Memberships in associations and institutions