IS-M vertical cutting machine
Very high cutting precision for highest cutting standards
Special design with set knife for the cutting of insulating material (e.g. mineral wool, PUR rigid foam or polystyrene (EPS))
Second tiltable left side stop for an easy loading of the machine
Utilization of the left table half as turntable for precion rectangle cuts
Utilization of a frequency-controlled knife drive for the cutting of special foams
Air cushion systems for an effortless handling of large blocks
Material fixing by an optional holding down system
Minimal space requirement due to a stationary table and a movable cutting unit
Minimization of cutting times as it it possible to cut in both directions - employment of a knife twisted by 180°
Possibility of a customized and custom-designed design due to a number of differently configurable table dimensions of both table halves.
Key Facts
Application
Mattresses, furniture, packaging and automotive industry, consumer goods/household goods industry, special applications such as ceramic filters (reticulated foams), Vertical cutting
Material
Block and sheet ware from PUR soft foam, non-woven material, rubber foam, latex, EPDM foam and Basotect®, rock wool and glass wool as well as PUR rigid foam, EPP
Cutting Tool
Precision-ground circulating ground knife with widths of 6-20 mm, available either as toothed knife or as set knife
Technical Data
Standard
Motor-driven upper knife protection unit
Motor-driven grinding unit
Right side stop
Working table with anodized aluminium surface
Pneumatic knife tensioning support
Options
Air cushion system
Continuously adjustable knife speed
Cooling unit
Grinding dust extraction unit
Holding down device
Increase of side stop from 750 mm to 1000 mm
Left side stop
Left working table as turntable
Optical knife grinding control
Version with angle-toothed knife
Version with set knife
Special design with set knife for the cutting of insulating material such as EPP and rock wool
Left working table as turntable
Easy, efficient and precise cutting of rectangular parts without manual turning of the material
For example for the cutting of adhesive laminated goods
Air cushion system
Air cushion generated by a fan
Left and right working table can be equipped with an air cushion
Recommended for multiple turning of the block during trimming
Very easy moving of the block on the table
Holding down device
Holding down device in connection with turntable
Achievement of minimal cutting tolerances
Optical knife grinding control
Better control of the knife grinding at both bevels due to a microscope measuring magnifying glass with illumination
Optimum cutting results and tolerances.
About us
The Albrecht Bäumer GmbH & Co. KG has been a leading manufacturer of machines and equipment for the foam industry for 70 years. The company focus is on special machinery and equipment. In this area, we have grown as a medium-sized company from pioneer to world leader.
Our locations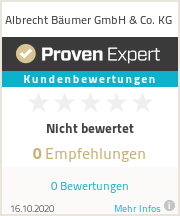 Memberships in associations and institutions