IS-L vertical cutting machine
The table is manually moved, the lateral stop is adjusted by means of a hand wheel.
Different table models
Direct detection and display of side stop position by means of digital cursors (Option)
Due to the option of locking the movable table, it is also possible to manually work by the templet on the machine
For precise parallel cuts the material is guided on the sliding table by means of a side guide.
A ratchet for adjusting the side stop guarantees an exact infeed with recurring cutting widths
Optionally available with motor-driven grinder and grinding dust extractor unit
Special design with set knife for the cutting of insulating material (e.g. mineral wool, PUR rigid foam or polystyrene (EPS))
Key Facts
Application
Mattresses, furniture packaging and automotive industry, consumer goods/houshold goods, construction industry
Material
Block and sheet ware from PUR soft foam, PE foam, non-woven material, foam rubber, latex, EPDM foam and Basotect®, rock wool and glass wool as well as PUR rigid foam, laminated sheet ware, etc.
Cutting Tool
Precision-ground smooth circumferential knife 6 - 20 mm in width, also available with toothed knife or set knife
Technical Data
Standard

Options
Block Width

1 250 mm
1 600 mm, 2 200 mm
Block Height

1 300 mm
650 mm, 1 500 mm
Block Length

2 200 mm
2 500 mm, 3 100 mm
Standard
Motor-driven knife protection unit
Side stop
Pneumatic knife tensioning support
Options
Adjustable knife speed
Angle-adjustable side stop
Digital position indicator
Grinding dust extraction unit
Grinding unit
Increase of side stop height
Optical knife grinding control
Ratchet for side stop adjustment
Version for rigid foam
Dig. pos. indicating device
Electronic display for the exact detection and indication of the position of the stop
Set knife
Version with set knife
For the cutting of insulating materials, rock wool or rigid foam in conjunction with an optional dust extraction unit
Special design with set knife
Ratchet
Ratchet for the exact and fast infeed of the side stop
Labor-saving when working with recurring cutting widths
Grinding unit
Grinding unit with two motor-driven grinding discs
For extracting the grinding dust arising during the grinding process
Essential when utilizing a smooth knife
About us
The Albrecht Bäumer GmbH & Co. KG has been a leading manufacturer of machines and equipment for the foam industry for 70 years. The company focus is on special machinery and equipment. In this area, we have grown as a medium-sized company from pioneer to world leader.
Our locations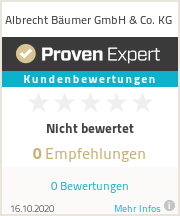 Memberships in associations and institutions