IS-BA trimming machine
The maximum trimming length per cutting unit is 200 mm.
Operator positions cutting unit by means of a hand wheel (optionally motor-driven)
The position of the cutting unit is separately indicated as digital readout
Utilisation of teflonized bindings for a better guiding of the knife in order to ensure the accurate trimming of different materials
Grinder for sharpening the knife
Alternatively, a steel knife bar is possible
Key Facts
Application
Long block foam processing as well as major processor of short blocks for upholstery and mattress industry
Material
PUR soft foam (PUR-ether und PUR-ester) as well as all special foams such as HR, visco-elastic foam, etc.
Cutting Tool
Precision-ground circulating band knife 15 x 0.45 mm
Technical Data
Standard

Options
Block Width

1 200 mm - 2 200 mm
1 200 mm - 2 500 mm
Block Height

1 300 mm
1 500 mm
Standard
Friktion driven grinding unit
Manual adjustment of each cutting unit by hand wheel
Mechanical positioning indicator
Teflonized bindings
Two cutting units as two-wheel version
Options
Adjustment of the cutting units by motor
Cooling unit
Digital display of the position of the cutting unit in the control panel
Digital display of the position of the side guide in the control panel
Fourth cutting unit for a further centre cut (4-wheel version)
Motor-driven grinding unit
Roller conveyor in the area of the side guide with a length of 2 000 mm, available either as driven or as non-driven version
Stable side guide including mechanical positioning indicator
Steel knife bar
Third cutting unit for centre cuts (4-wheel version)
Driven roller conveyor
Driven roller conveyor in the area of the side guide
Secures a constant further transport of the block in the aligned position
Third/fourth cutting unit
Additional cutting unit for centre cut
Offers the possibility to simultaniously cut a maximum of 3 trimmed blocks from one long block at the same time
Motor-driven adjustment
Motor-driven adjustment of the trimming units
Most precise positioning of the cutting units by motor
Pre-selection of the position by a separated operator panel
Motor-driven grinding units
For an even finer grinding of the band knife
Stable side guide
Parallel alignment of the block to the cutting units upstream of the IS/BA
Allows the realisation of smallest trimming cuts
Optionally, this unit can be controlled by means of remote control in a central operator panel.
Steel knife bar
For achieving very small trimming cut thicknesses with long blocks we recommend the use of a steel knife bar
About us
The Albrecht Bäumer GmbH & Co. KG has been a leading manufacturer of machines and equipment for the foam industry for 70 years. The company focus is on special machinery and equipment. In this area, we have grown as a medium-sized company from pioneer to world leader.
Our locations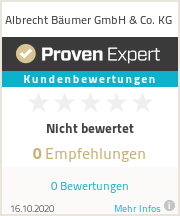 Memberships in associations and institutions