GF-1200 sponge milling machine
Suitable for the bulk production of grip sponge scrubbers made from softfoam with laminations of abrasive or non-woven material.
Production process: The sponge milling machine is fed with pre-configured foam bars from a magazine - milling of the groove into the foam bars - on the table of the cutting-off station the milled foam bars are bundled to packages of 10 or 20 bars - automatic cutting-off of the packages or cutting-to-size at the vertical cutting-off machine
Maximum rate of production: 12.000 sponges per hour
Economic cycle times due to parallel cut-off and stacking function
Pre-selection of different milling velocities for the production of quality products
Powerful extraction
Automatic material feed (optional)
Key Facts
Application
Household sponges, Sponge milling
Material
Soft foam with scouring or non-woven material laminated onto one or both sides
Cutting Tool
Milling head made from aluminium or steel and toothed endless knife in the vertical cutting-off unit
Technical Data
Options
Automatic charging of the strips made from sheet/roll ware
Extraction unit for milling dust with motorized vibrating unit with timer
Extraction unit with a performance of 4 000 m³/h
Spare milling devices out of nitrided steel in various sizes
Cutting line for sponge milling
For the cutting and preparing of foam bars made from sheet or metre goods which are afterwards fed into the GF 1200.
Can be integrated into the installation
Increases the automisation level of the installation
Replacement for the magazine
About us
The Albrecht Bäumer GmbH & Co. KG has been a leading manufacturer of machines and equipment for the foam industry for 70 years. The company focus is on special machinery and equipment. In this area, we have grown as a medium-sized company from pioneer to world leader.
Our locations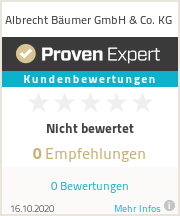 Memberships in associations and institutions