EP profiling machine
Production of various customized profilings from high densities, strain hardnesses and material thicknesses due to the compact design of the EP
Winding and unwinding devices allow a continuous production flow for the profiling of sheet ware (option)
Simple quick change system allows a fast changing of the profile rollers and minimizes thus the production costs
Customized profile rollers provide a unique selling proportion and increase customer satisfaction and flexibility
The standard version of the machines provides high, user-friendly and simple ease of use due to latest servo technology, operator panel, automatic knife readjustment in the case of knife wear and infinitely adjustment of the pressure rollers
Knife retainers in the knife bar serve for additonal guiding and stability of the knife during the cutting process
As a special version, the EP machine can be delivered as a comination of an EP and ES machine - Apart from profiling, this machine can also be universally used for the splitting of special materials such as PE, EVA, rubber foam, ether foam, etc.
Key Facts
Application
Mattress industry, packaging industry, technical articles for the acoustic industry as well as for the household and consumer goods industryProfiling
Material
PUR soft foam, PUR HR foam, PUR rebond foam, visco-elastic foam, Basotect®
Cutting Tool
Endless band knife with a thickness of 80 x 1 mm, guided in a knife bar with exchangeable upper and lower binding
Technical Data
Standard
Angle adjustable rear table
Continuously variable servo drive for profile rollers
Grinding dust extraction unit
Grinding unit
Height adjustable front table
Knife bar
B-Con
Options
Brushing device with roller section behid the lower profile roller
Carriage for roller change
Compression belt
Cooling unit
Driven transport conveyor behind the knife bar
Driven transport conveyor on the front table
Flip-over station for the separation and flipping of the profiled sheets so that the profiled surface is turned upwards
Profile roller diameter 315 mm, no roller support required
Reinforced knife drive
Sets of profiling rollers of different designs
Support of the upper and lower profiling rollers (Diameter 207 mm)
Winding and unwinding unit
Winding and unwinding unit
The unwinding unit upstream of the splitting machine allows the converting of endless roll ware
The downstream winding unit winds the split material to a diameter of up to 2 000 mm
Frequency-controlled knife drive
For the profiling of very high densities and in the case of very high compression conditions
Compression belt
Compression belt, positioned on front of the machine
By this, a more homogeneous knob structure over the entire profiling surface is achieved
Facilitates the precise feeding of material to the profiling rollers
Recommended for the profiliing of shees of a height of at least 150 mm
About us
The Albrecht Bäumer GmbH & Co. KG has been a leading manufacturer of machines and equipment for the foam industry for 70 years. The company focus is on special machinery and equipment. In this area, we have grown as a medium-sized company from pioneer to world leader.
Our locations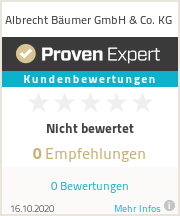 Memberships in associations and institutions