BSV-EC long splitting machine
Most economic production of foil ware and best possible utilisation of the material: with foil thicknesses of 1 mm to 50 mm it is possible to wind a max. roller diameter of 1.5 to 2.4 m, depending on the corresponding machine version
The long block to be split is continuously fed to the cutting portal by an endless transport system which is located in two reinforced semi-circular towers equipped with belt systems.
Lowering of the cutting unit by the required foil thickness after each block cycle
Zum Längenausgleich ist der Turm hinter dem Schneidaggregat motorisch verfahrbar
For the reason of length compensation, the tower after the cutting unit can be moved by motor
For a precise block guiding and for bonding the block, a motor-driven side guide is installed upstream of the cutting unit. The current position of the side guide is displayed on the operator panel.
Clamp fitting in the towers enable the cutting of open blocks in semi-automatic circulation mode and the converting of long blocks of soft qualities
Maximum cutting speed of 150 m/min with all versions and for all block lengths
The maximum block weight with 60 m is 7 t
The machine control is an efficient PLC by Siemens with a high operating convenience
Storage of numerous cutting programmes and machines settings directly at the control panel
Continuous, constant cutting result due to a programmable, all-automatic movement of cutting angle adjustment, pressure roller position and knife bar, in dependence on the foam quality
Grinding cycles and the duration of the knife grinding can be pre-programmed.
Continuous, high-quality grinding of the knife by a high-precision grinding unit with pneumatic advance of the cup wheels
Key Facts
Application
Automotive industry, mattress industry, footwear industry, apparel industry, packaging industrySplitting
Material
Polyether and Polyester soft foams with various densities and densities, rebond foam. Precondition: the flexible PUR soft foam used in the looper must be able to adapt itself to the radii of the deflection station without any difficulties. Long-splitting machine BSV-EC can process more flexible foams and higher densities than the BSV-E model.
Cutting Tool
Precision-ground circulating ground knife (width 80 mm, thickness 0.6 mm)
Technical Data
Standard

Options
Block Width

2 300 mm
2 500 mm
Block Height

1 300 mm
1 500 mm
Block Length

40 m
50 m, 60 m
Standard
Cooling unit
Grinding dust extraction unit
Grinding unit
B-Con
Motor-driven adjustable pressure roller
Motor-driven adjustment of retainer
Motor-driven cutting angle adjustment
Motor-driven feeding bridge
One side stop adjustable by motor
Operation right hand
Main transport conveyor with vacuum unit (extern)
No winding unit
7 conveyor belt drives
Options
Angle adjustable grinding discs 6-12°
Quick change device for cup wheels
Re-inforced grinding dust extraction unit
Reversing mode for short blocks
Reversing mode in connection with second feeding bridge
Special lengths available on request
Operation left hand
Winding unit on separate lifting platform
Troughed conveyor belt
Circular cross cutter
Catwalk
Second side stop in trolley conveyor
Strip cutter (outer trimming)
Strip cutter with center cut (retractable)
Ionization unit
Antistatic brush
Winding unit with supporting spindle
Manual cone adjustment
Cable numbering
Frequency-controlled vacuum unit
Pressure roller
Motor-driven pressure roller
Necessary for the cutting of thin foils (1-5 mm) made from lightweight foam qualities (1-5 mm)
Third tower
As a special version, the BSV-EC can also be equipped with a third tower
By this, two different lengths of glued blocks can be converted, e.g. 60 m and 120 m
Winder
Version A: Winding unit with 2 driven winding rollers; height adjustment effected using supporting spindles

Version B: The winding unit consists of a belt system mounted on a moveable lifting platform. During the splitting operation, this automatically follows the cutting unit as the block height decreases. The operator stands on the lifting platform to ensure easy operation of the winding unit
Troughed belt conveyor
The troughed conveyor is directly placed downstream of the winding unit
Allows an easy removing of the completely wound foam roll from the machine to one side
Reverse mode
Reverse mode in connection with the second feeding bridge
For cutting long and short blocks made from materials which cannot be converted by a looper
By this function, a long block which cannot or shall not be glued can be converted to roll ware
Particularly for the cutting of heavy visco foams or similar materials
Circular knife cross cutter
For economically cutting off the foils after they have reached the preset foil length
Cutting-off machine
ABLG II for a straight and angular trimming of the head pieces before the long block is glued
ABLG II S for a straight and angular trimming of the head pieces before the long block is glued. The cutting angle of the ABLG II S can be adjusted between 45 and 90 degrees. The angular cut of the ABLG II S guarantees a larger adherend particularly with foams which a difficult to convert.
The set-up of the ABLG II and the ABLG II S is before the BSV-EC
IS-BA
For an accurate lateral trimming of the long block
Adjustment of the cutting units either by motor or manually by hand wheel
Can be equipped with either a binding or a knife bar
ROK
ROK Roll compression system for compressing and packaging polyurethane foam in roll form
Compression and packaging of foam rolls for economic and space-saving storage and transport
Reduction of the foam roll volume of up to 900 mm depending on foam type and machine specification
For roll widths of 2 200 mm or 2 500 mm
For roll diameters from 400-2 000 mm or 2 500 mm
Belt speed of 20 m/min
Up to 5 freely parameterizable compression and packaging programmes enable to an optimum coordination of the processes referred to different foam types
Packaging foil is welded automatically when the number of entered wrap layers is finished
About us
The Albrecht Bäumer GmbH & Co. KG has been a leading manufacturer of machines and equipment for the foam industry for 70 years. The company focus is on special machinery and equipment. In this area, we have grown as a medium-sized company from pioneer to world leader.
Our locations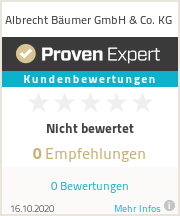 Memberships in associations and institutions