BST-D horizontal cutting machine
Especially re-inforced design of the cutting unit allows the optimal converting of medium and high volumetic weights
Long knife lifetime and low set-up costs as the knife is relieved of the strain as it does not need to be turned due to the swivelling cutting unit
Optimal fixation of the piece to be cut by means of the standard equipment of the table with vacuum units in the cutting area
Permanently high cutting precion throughout the knife lifetime thanks to the employment of a band knife of 60 mm width which is ground by an integrated grinding unit.
Optimum cutting angle and cutting of precise sheet thickness thanks to fully automatic angle adjustment of the cutting unit depending on the cutting thicknesses.
Optional full automation of the carousel cutting machine with a belt system integrated in the turntable combined with loading and unloading conveyors.
Various table diameter selectable for an optimum utilization of the machine
Key Facts
Application
furniture industry, mattress production, automotive industry, packaging industry, technical articlesHorizontal cutting
Material
PUR-ether and PUR-ester foam, PU rebond foam, visco-elastic foams, Basotect®, latex, reticulated foams
Cutting Tool
The machine is equipped with an endless band knife of 60 mm width which runs over 4 wheels inside the cutting unit.
Technical Data
Standard
Automatic angle adjustment
Automatic determination of the gap (cutting without any stop)
Foot switch for the loading and unloading
Grinding dust extraction unit
Grinding unit
B-Con
Vacuum
Options
Air cushion system for loading and unloading
Cooling unit
Loading and unloading conveyors
Loading conveyor incl. roller conveyor section for automatic unloading
Silicone spraying unit for improving the cutting performance
Turntable with 3 belts for an easy loading and unloading (only with turntable 7 200 mm)
Loading and unloading support
Loading and unloading support by means of an air cushion system
Comfortable and very easy unloading of the BST-D machine, even without conveyor system
Turntable with belts
Equipment of the table with three belt systems
Loading and unloading of the machine by preceding transport devices which can be adapted to the conditions on site
Considerable simplification, especially when unloading the machine without preceding transort devices
Employed especially in all-automatic cutting lines
Air cushion system
Air cushion system for the creation of an air cushion below the block
Easy handling of the block
Silicone spraying unit
Wets the knife binding at intervals
Minimization of frictional forces between the binding and the material to be cut
Enhanced stacking result
About us
The Albrecht Bäumer GmbH & Co. KG has been a leading manufacturer of machines and equipment for the foam industry for 70 years. The company focus is on special machinery and equipment. In this area, we have grown as a medium-sized company from pioneer to world leader.
Our locations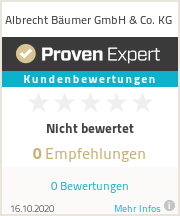 Memberships in associations and institutions