BST-150 horizontal cutting machine
The especially reinforced design of the cutting unit ensures a very high binding tension of approx. 10 t and thus provides the best way of converting light to heavy densities.
Low through-put rates due to a maximum cutting and return motion speed of 80 m/min
Effective increase in productivity
Creation of ideal cutting angles and cutting of precise sheet thicknesses thanks to the automatic angle adjustment of the cutting unit
Permanently high cutting precion throughout the very long knife lifetime thanks to the employment of a band knife of 60 x 0.6 mm.
Long knife lifetime and low set-up costs as the knife is relieved of the strain as it does not need to be turned due to the swivelling cutting unit
Grinding duration and grinding cycle can be regulated at the grinding unit by the operator
Optional equipment of the machine with transport conveyors and holding down device
By storing the qualities, the cutting unit is automatically swivelled into the best position to the material when the cutting thickness is changed.
Key Facts
Application
Furniture industry, production of mattresses, automotive industry, packaging industry, technical articlesHorizontal cutting
Material
PUR-ether and PUR-ester foam, PUR rebond foam, reticulated foams, latex, Basotect® as well as similar materials with light up to high densities
Cutting Tool
Endless band knife, 60 mm x 0.6 mm, runs over 4 light alloy wheels inside the cutting unit
Technical Data
Standard

Options
Block Width

2 200 mm
2 500 mm
Block Height

1 300 mm
1 500 mm
Block Length

2 200 mm
3 300 mm, 4 400 mm, 5 500 mm, 6 600 mm
Standard
automatic cutting angle adjustment from 0° to +6°
Grinding dust extraction unit
Grinding unit
B-Con
Reversing table
Options
Binding holder
Cooling unit
Loading and unloading conveyors
Silicone spraying unit
Table equipped with perforated belts
Loading and unloading conveyors
When being equipped with belts on the table, the machine can optionally be equipped with loading and unloading conveyors
Allow an automatic loading and unloading and thus a continuous production flow
Positioned upstream and downstream of the machine
Reduction of machine down times
Perforated transport conveyors
Installation of perforated belts on the working table
Allows all-automatic operation cycles
Can be integrated into a cutting line either as single machine or together with other machines
Then the machine can be equipped with additional loading and unloading conveyors
Spraying unit
Wets the knife binding at arbitrary intervals
Minimization of frictional forces between the binding and the material to be cut, particularly with materials with high frictional forces
Improved stacking performance (only little misalignment)
About us
The Albrecht Bäumer GmbH & Co. KG has been a leading manufacturer of machines and equipment for the foam industry for 70 years. The company focus is on special machinery and equipment. In this area, we have grown as a medium-sized company from pioneer to world leader.
Our locations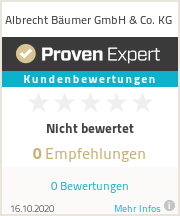 Memberships in associations and institutions