BSA horizontal cutting machine
Unique splitting system: The cutting unit moves horizontally and works with 2 tables which are adjustable in height. On the first table the material is fed, on the second table the split sheet ware is de-stacked.
Very high productivity due to cutting speeds of up to 100 m/min. Cutting angle and pressure roller are automatically adjusted depending on material and cutting thickness
Creation of sheet stacks with almost no misalignments by automatically removing and destacking the material
Due to the utilization of a slim knife bar it is possible to cut a very wide range of different materials with minimal cutting tolerances
The automatic re-adjustment of the knife secures a constant cutting and tolerance quality
The machine is suitable for being incorporated into an all-automatic cutting line, e.g. in connection with a vertical contour cutting machine
Key Facts
Application
Upholstery and furniture industry, automotive industry, packaging industry, technical articlesHorizontal cutting
Material
PUR-ether and PUR-ester foams, PUR rebond foam, PE, EVA, reticulated foams, melamine foams, sponge rubber, cellular rubber, Neopren (EPDM),visco
Cutting Tool
Precision-ground endless band knife of 60 mm width, running over 2 wheels, stabilized by a upper and lower binding integrated into the knife bar
Technical Data
Standard

Options
Block Width

2 200 mm
Block Height

1 300 mm
1 500 mm
Block Length

3 050 mm
Standard
Stacking System
Driven pressure roller
Grinding dust extraction unit
Grinding unit
Horizontally movable cutting unit with cutting angle adjustment horizontal 0°-6°
Knife bar
B-Con
Pressure roller adjustable in height by motor
Retainer adjustment
Unloading conveyor downstream of the cutting unit
Options
Cooling unit
Table I with controlled vacuum units
Table II with chain conveyor for pallets
Driven pressure roller
Necessary for the cutting of thin sheets and special materials
Motor-driven angle adjustment
Optimum cutting angle for different materials and cutting thicknesses
Vacuum unit
For the cutting of special materials which do not stay upon the table on their own due to their low dead weight
High cutting accuracy due to the excellent fixation of the sheets and blocks
Frequency-controlled vacuum unit which regulates the suction power. For special foam qualities as well as for decreasing block height
Pallet conveying system
Increase of productivity through all-automatic stacking
The cut material is stacked onto several pallets and unloaded on the pallets afterwards by means of a chain conveyor
About us
The Albrecht Bäumer GmbH & Co. KG has been a leading manufacturer of machines and equipment for the foam industry for 70 years. The company focus is on special machinery and equipment. In this area, we have grown as a medium-sized company from pioneer to world leader.
Our locations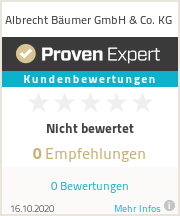 Memberships in associations and institutions