BCR
A short or long block is uniformly compressed by roller rows placed on top of each other.
The function of the crusher is that the lower roller conveyor is fixed and the upper roller conveyor can be driven in an angled position to continuously increase the compression. The adjustment is performed hydraulically at a speed of approx. 5m/min. The upper and lower roller conveyors are driven by a frequency controlled DS Motor.
High production capacity due to a crushing speed 15 m/min. The passage speed (without crushing) can be adjusted up to 60 m/min in both directions.
The upper roller row can be infinitely moved when being inclined so that the pressing power can be continuously increased and adapted to different foam qualities
The crushing of the foam improves its quality
By means of the operator panel, an all-automatic crushing cycle of several steps can be programmed
Utilisation as a stand-alone version as well as in an automatic line
Key Facts
Application
Upholstery, mattress, furniture and automotive industry block crushing
Material
HR foams, visco-elastis foams, polyether and similar materials
Technical Data
Standard

Options
Block Width

2 500 mm
Block Height

1 300 mm
1 500 mm
Standard
Feed rate 15 m/min during the crushing process
Max. block compression: 12t
The upper track can be adjusted hydraulically in an angled position to increase the compression continuously
Lower stationary conveyor (seperate drive)
Hydraulic adjustment
The passage speed (without crushing) can be adjusted up to 60 m/min in both directions
Solidly welded steel construction
B-Con
Options
Loading and unloading conveyors: the drive belt is synchronized machanically with the block crusher
High adjustable lower track. The upper and lower roller conveyors are adjustable hydraulically so that the compression can be increased continuously and adjusted to different foam qualities. As a result the cells are being better crushed with equal pressure
Reversing mode: Block can be crushed in both directions
Cooling unit
Transport conveyor upstream or downstream of the crusher, respectively
Ensures an ideal through-put of the material
Equipment with separate short transport conveyors, particularly recommended for the stand-alone Version. Especially for short block applications
With long block applications, the length of the transport conveyors depends on the maximum block length (e. g. 30, 50 or 60 m)
About us
The Albrecht Bäumer GmbH & Co. KG has been a leading manufacturer of machines and equipment for the foam industry for 70 years. The company focus is on special machinery and equipment. In this area, we have grown as a medium-sized company from pioneer to world leader.
Our locations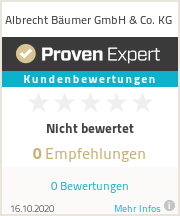 Memberships in associations and institutions