AS-1 angular cutting machine
The vertical cutting unit can be swivelled to 15° in both directions. By this, it is possible to cut a multitude of different patterns.
It is possible to work by the template and to bevel at the same time
With the twisted band knife it is possible to cut in both directions
Max. block height of 400 mm, optional 650 mm, in vertical basic position of the cutting unit
Two manually adjustable rollers on the working table facilitate the manual templating
Long knife lifetime as rubberized knife wheels with a diameter of 300 mm are integrated in a two-wheel cutting unit which create a sufficient bending radius
A motor-driven grinding unit sharpens the circulating knife and guarantees a high surface finish
The machine is placed on rollers and by this it can be easily relocated inside of the factory.
Key Facts
Application
packaging, furniture, upholstery and automotive industry, medical-technical applicationsAngular cutting
Material
PUR soft foam, HR foam, visco foam, latex, rebond foam, Basotect®, PE
Cutting Tool
Endless circulating precision-ground band knife 10 x 0.45 mm
Technical Data
Standard
Guiding rollers, adjustable by hand wheel
Manually adjustable knife guide and knife protection, respectively
Motor-driven grinding unit
Two-wheel cutting unit with knife
Options
Cutting speed 3-25 m/min
Motor-driven lateral transport belt
Straight side stop, adjustable by hand wheel
Driven transport conveyor
Driven transport conveyor facilitates the cutting of recurring parts
Positioned downstream of the knife
Straight side stop
A straight side stop can be installed instead of the manually adjustable rollers
Increase of cutting accuracy
About us
The Albrecht Bäumer GmbH & Co. KG has been a leading manufacturer of machines and equipment for the foam industry for 70 years. The company focus is on special machinery and equipment. In this area, we have grown as a medium-sized company from pioneer to world leader.
Our locations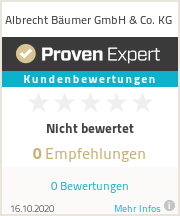 Memberships in associations and institutions